When it comes to purchasing wicker furniture it may be tricky to tell better quality wicker apart from low quality. Wicker patio sets can range from a few hundred dollars to thousands of dollars, so how can you tell a good wicker set from a bad one? We're going to demystify this subject for you, so that you can distinguish quality wicker right in the spot.
There are a few things to look at in order to evaluate the quality of a particular wicker set, these include: materials, weave, support system, and price.
Materials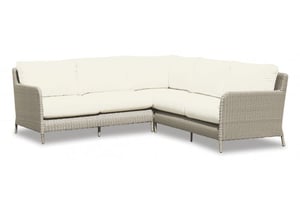 Most cheap, low quality wickers are made of plastic materials that will tear, scratch and come apart over time. Due to it's short term durability plastic wicker is not the most optimal choice of wicker, since you'll have to replace the set much more frequently over time. Additionally, non-biodegradable plastics add to landfill pollution and enlarge the ecological footprint of our nation. So, how can you spot this "cheap" wicker? Simply take a look at it's appearance, cheaper wicker looks like shiny vinyl and often very thin, so you won't ever be fooled!
Quality wicker on the other hand is made out of Polyethylene, a type of eco-friendly synthetic resin that is infused with UV inhibitors to prevent fading from sun exposure. This material is highly durable, low maintenance, resistant to cracking, scratching and durable against the elements. This type of material has a matte wooden appearance but we recommend that you also ask or read the sales tag to be sure the wicker set you are shipping is made out of this material.
Be aware that the wicker furniture you may be able to buy at big box retailers is not the same quality as Polyethylene, especially lacking UV stabilizer, and thus it can wear and break faster.
Weave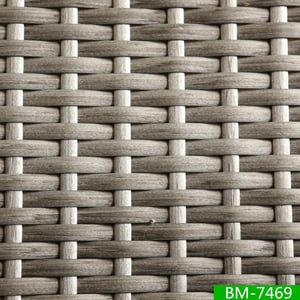 Quality wicker furniture is professionally hand woven, a few rows at a time. When retailers seek to lower costs and mass produce, the wicker is woven by rows of 10 at a time. This results in wicker patterns that go on a certain direction or another and odd spacing between the rows. This is because it's nearly impossible to straighten the strands when working with such large numbers at the same time. The process to make high quality wicker is a tedious one that results in beautiful pieces, so look out for even weaves and symmetrical patterns to tell if it's high quality or not.
Support System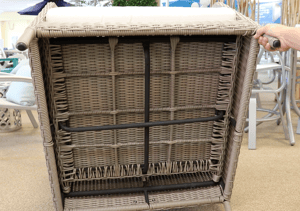 Another way companies seek to reduce costs is by producing cheap frames for their wicker. This leads to bent and wrapped frames in a short period of time. A good quality wicker set should come with a thick aluminum frame, preferably powder-coated to prevent rust and for aesthetic appeal. The aluminum frame provides support to the seating area while maintaining its light weight construction that makes it easy for you to rearrange your patio furniture easily.
If this support is built with weak materials or if certain sets that needed additional support do not bring it built in, there is a higher change of drooping seats and the weave unraveling when under extreme stress. Also, beware of box stores claiming "sturdy metal frames" this is usually a way of disguising steel construction- which will rust and corrode.
So pay attention to the support system under the set, ask a sales person to lift the wicker furniture and show you the support frame system just to be sure.
Price
Normally a good quality wicker piece will cost you around a few hundred dollars, and a set will be a few thousand. Very high end wicker furniture will go upwards of $10,000.. Quality wicker brands like Sunset West and Lloyd Flanders range from $2,00 to 5,000 in price for a set that will last you 10+ years in perfect quality.
Remember that you get what you pay for, and if the wicker set is under a thousand, chances are it's a mass produced, low quality set that will last you 2-3 years and end up polluting the landfills.